Oderco Petroleum has signed a Joint Venture with second State own group of China for an Investment of 60 Billions US Dollars for Latin America infrastructure development with sovereign guarantee for each country .
In Venezuela we are working of following IPC projects for Petcoke Plants for PDVSA, POLINTER ETHYLENO COMPLEX in Guiria for Pequiven, Thermoelectric Plant for Corpoelec Maracaibo for an total investment of 7 Billion US Dollars.
COMPANY PROFILE
China Machinery Industry Construction Group Inc. (SINOCONST), formerly China CMIIC Engineering & Construction Corporation which was founded in September 1953 is one of the earliest large state owned construction enterprises in China and a first-class general construction contractor approved by the Ministry of Housing and Urban-Rural Development. Awarded AAA credit standing and respectability, SINOCONST is qualified to engage in the business of external contracting, foreign trade and export of labor service with licenses granted by the Ministry of Commerce.
Meanwhile, SINOCONST has passed the verification and certification of ISO 9000 Quality Management System, ISO 14001 Environmental Management System and GB/T 28001 System of Occupational Health and Safety Management. Presently, SINOCONST has 12 sole subsidiaries, 5 branch companies, 4 specialized companies, 5 business offices, 8 equity participating companies and 1 polytechnic school. It boasts more than 10,000 employees, including 3,000 various technical personnel.
During the past 60-odd years since its establishment, SINOCONST has successively undertaken hundreds of large and medium key projects involving in different sectors, such as machinery, automobile, building materials, metallurgy, electric power, chemical, petroleum, electronics, light industry, broadcasting & TV, environmental protection, municipal project, public building, civil construction, and so on. With projects performed throughout the country, SINOCONST has made great contribution to China's industrial development and modernization.
Since the implementation of opening up and reform policy, SINOCONST has actively prepared for international competition and timely adjusted its business strategy with the overall innovation of its management mechanism. Considerable development has been witnessed in terms of international project contracting. Through performing projects in over 60 countries and regions, SINOCONST has accumulated rich experience and knowledge of international projects contracting and project management and formed competitive advantage by providing clients
package service including economic and technical consulting, project planning and design, complete technology and equipment, project construction management, staff training and production and standard achieving.
Meanwhile, SINOCONST has established in-depth strategic cooperation relationship at all levels with a large group of R & D institutes, distinguished enterprises and financial institutes both at home and abroad. Taking market as guide and innovation as power, emphasizing on the development of "4 Capabilities"- marketing, project management, technology and capital operation, and focusing on "5 Business Segments"-electric power, transportation, municipal, steel structure and mechanical and electrical installation, SINOCONST has achieved a remarkable progress in terms of leading economic indicators.
Looking into the future, SINOCONST will follow the concept of serving the mankind sincerely and building the future wholeheartedly, with enterprising spirit, continuously creating flesh competitive edge and development momentum to be one of the modern enterprise groups with international competitiveness.
PROJECT CONTRACTING
During the past half century, CMIIC has got outstanding achievements in the construction field of many national key projects involving in different sectors, such as mechanical, automobile, metallurgy, chemical, electric power, electronics, aviation, which has made great contribution to China's industrial development and modernization. The company has devoted itself to international projects for many years and undertaken a number of construction projects in more than twenty countries around Asian, Africa, Europe and America, enhancing the international cooperation and project contracting. Thus, CMIIC has accumulated rich experience and knowledge of international projects contracting and project management, playing important role for the economical and technical cooperation between different regions.
EQUIPMENT INTEGRATING AND TRADING
In equipment integration and trading business, CMIIC work closely with financial institutions such as World Bank and Asian Development Bank, taking part in the businesses related to China's development. Typical examples are construction of municipal gas supply stations of West-to-East Gas Transmission Project, Environment Protection and Atmospheric Pollution Control Project. CMIIC also specializes in general sales for many world famous automatic system control instruments, with capability for automatic control system design, equipment integration and consultation.
PROJECT INVESTMENT AND OPERATION
CMIIC was awarded AAA credit rating and is respected in project investment and operation. We have established a long term relationships with many financial institutions, which enables us to finance and construct city infrastructures under the model of BOT and BT. With a full-scale project operation service system, we are able to provide project operation and management assistant in many areas.
METALLURGY AND MINING ENGINEERING
We has provided engineering design and complete sets of equipment to dozens of large iron and steel complexes in China like Baosteel, Anshan Iron & Steel, Panzhihua Iron & Steel as well as other large steel complexes in Germany, Iran and Pakistan. It has also provided complete sets of equipment and turnkey project services for large coal mining enterprises in Indonesia, Turkey, Bangladesh, Myanmar as well as many domestic coal mines, in the field of excavation, screening and conveying operations.
EQUIPMENT REASSEMBLY
With strong market competitive edge in relocation of secondhand equipment sector, CMIIC has undertaken near 100 production lines in more than twenty countries, and become a well known specialized company in the field of world market, providing one package service from information consultation, dismantlement, package, sea and land transportation of equipment to installation.
Sinomach powers Tesla's China drive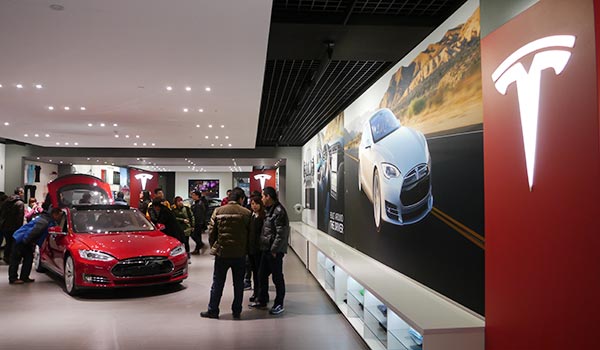 Sinomach Automobile Co announced on Monday night that it has provided services to TeslaMotors to obtain China Compulsory Certification for the imported fully-electricsports carModel S, according to Shanghai Securities News.
Sinomach Automobile is a car import agent companyunder China National Machinery Industry Corporation(Sinomach).
Chemical and petrochemical field
We have absorbed excellent engineering design staff from petro-chemical industry and have established certain advantages in fields such as Super flex polyolefin(PP/PE),styrene, ethylene propylene rubber,polycarbonate,EO/EG,secbutyl acetate ,we are cooperating with related scientific research institutes for technical development for production of ethanol from methanol,butyl acetate,olefin from oil and ethanol,PX co-producing olefins from oil and ethanol etc.
We have designed projects from medium sizes to mega sizes, including plants, process
units, oil terminals, long-distance oil & gas pipelines and municipal infrastructures for the petroleum refining, petrochemical, natural gas, coal to liquids, coal chemical, pharmaceutical and chemical industries and has developed its unique, cutting-edge engineering technologies in crude distillation, fluidized catalytic cracking, delayed coking, hydrotreating, continuous catalytic reforming, PX production, hydrogen production, oil and gas storage and transportation, LNG, coal to chemical and coal to liquid fields, which have contributed greatly to the development and technological progress of petroleum refining, petrochemical, coal to liquid, coal to chemical and LNG industries.
We have accumulated extensive experiences in project engineering design supported by advanced design, calculation, simulation and management software such as Marian, PDS/PDMS, Intools, Smartplant PIMS, Documentum, etc. The design procedures, design methods and design organization are in line with global practices which can meet the requirements of both domestic and overseas clients.